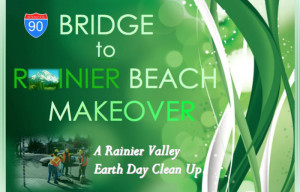 Bridge to Beach (B2B) is on Sunday, April 27th this year.
This is the Rainier Valley Day of Service, where neighbors are out picking up trash, weeding planting strips, painting out graffiti, building benches, art projects, or whatever other kind of project that helps beautify our part of the city.
Hillman City residents have already signed up for at least one Bridge to Beach projects, including this one below:
Bringing Beauty to Hillman City's Concrete Planters — 8am-4pm; Rainier Ave S between Lucile and Mead. An all-day project to empty, paint, and plant those blue concrete planter boxes in Hillman City with beautiful, drought-tolerant plants. Sign up on this handy volunteer page if you're interested in helping out and meeting some of your neighbors.
We'll update this page as we hear of other Hillman City B2B projects in the works.
Got a neighborhood beautification project in mind?  Interested in putting a team together to help you? The City of Seattle will provide the supplies! Just register your project  HERE, so they'll know what you need.