Relocated to Hillman City after 17 years in the Central District, Amy's Merkato is many things–a comfortable cafe, a shop selling spices, wine and selected dry goods, and at its heart, a bakery supplying fresh injera to East African restaurants and shops around Seattle. The cafe will be keeping bakery hours, opening early most days.
5710 Rainier Ave S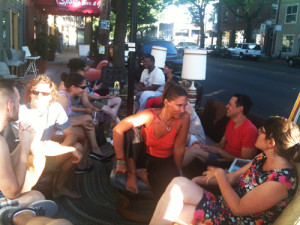 It's a family operation at Jacob Willard Home — dad Karl named the used furniture shop after his son — and the Rainier Ave. storefront is virtually overflowing stylish vintage and mid-century furniture. Occasionally on a summer evening, the store does actually spill onto the sidewalk — providing furniture for a community pop-up "Hillman City Living Room (pictured above)!" Karl also stocks mid-century collectibles and LPs, and offers upholstery and refinishing services, extending the life of older tables, chairs and other furniture.
Jacob Willard Home was in business online for three years before Karl decided it was time to open a showroom. He considered downtown locations before zeroing in on Hillman City, a neighborhood he describes as "up and coming." Stop by to browse, to chat with Karl about interior design, or to hear what he's got playing on the turntable!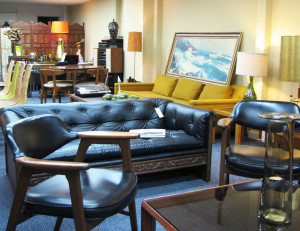 Jacob Willard Home
5600-D Rainier Ave S Seattle 98118 206.290.8619 Email: karl@vintagevaultseattle.com Facebook page