Chef Aaron Verzosa and partner Amber Manuguid have opened Archipelago, serving progressive Filipino American cuisine drawing on Verzosa's experience working in culinary research at the Modernist Cuisine lab in Bellevue.
The new spot will be more fine dining than casual, with two seatings per evening featuring an 8-10 course tasting menu. Check them out on Instagram or Facebook.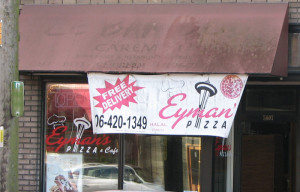 Hillman City's local, reliable pizza take-out joint, Eyman's provides the basics at an affordable price — and may be Seattle's only Halal pizza establishment.
Listed open hours are Monday 4pm-9:30 pm, and Tues-Sun 2pm-9:30pm.
5607 Rainier Ave S.
tel. 206.420.1349