Vision Hillman City
\A Hillman City Neighborhood Council is under construction—we want your input. The council will perform activities such as:
• Advocate for Hillman City interests before local government officials.
• Host meetings focused on getting feedback from community members
• Organize efforts to improve the neighborhood based on community feedback
• Seek funding for projects to improve the community
Join us on the evening of September 15th for a community-wide meeting to review the proposed structure, offer feedback, and vote on whether to approve the design of this council. We need a variety of neighborhood voices.
Location: Rainier Avenue Church (lower level) at 5900 S Juneau St, 98118
Time: Doors open at 6:30
Light refreshments will be provided
Simple activities for children will be available
Amharic
በ ሴፕብቴምበር 15 ማታ 6:30pm በ ሚዝጋጀው የሀልመን ሲቲ ኣክባቢ ካውንስል ምስረታ እና ምክክር በሚደረግበት የኮሚኒቲ ስብስባ ላይ እንዲገኙልን በትህትና እንጠይቃለን።
በዚህም ዝግጅት ላይ የርስዎን በጎ ተሳትፎ እና ግብኣት እንፈልጋለን። እንደ አስፈላጊነቱ የትርጉም ኣገልግሎትም በ ኣማረኛ ቋንቋ ተዘጋጀቱዋል።
አድራሻ: ሪነር ኣቬኑ ቸርች Rainier Ave Church, lower level -5900 S Juneau Street
Cham
ڨحوٛڠ هلون توڠبيه ڬاوء لکاو دعــا داي سعــاي حي بغـاي مـآي جنــوم ڬاوء ددالــم بغــوء حيــد جمعيـــة ڨــوء ڨلاي داغب دغــاي کوڠ حــي ڠــاء پو ڨاء هغـاي 15 بلآن 9 ني ڨــاء مـــوٚٓڠ 6:30 أونتوق حــي مشورة ڬاوء حــي ڠــاء جياۛڠ هســا جمــاعــة داغب کـــروڠ حيلمين (Hillman) نــي.
ڨحوٛڠ هلون څــاوء بغــوء بغـاي داي سعــاي ڨتمــاۛ سناٛڠ حوٚڠ ڬاوء دان ددالــم مجلس نن غــاي مدآ أوغــآڠ حــي لآڠ بغـــاي ڨاڠ واٚء توي بهســا٢ داغب داي سعـآي نن.
نــي علامــة لبيء جنوم: Rainier Ave Church, lower level – 5900 S Juneau Street
Somali
Fadlan nogu imow shir bisha September 15 2016 , 6:30 galabnimo si an oga wada hadalno Hillman City Neighborhood Council. Waxan jacelnahay fikradada. Turjubana luqadada ku hadlana wan heyna. Mesha wa Rainier Avenue Church, dabaqa hoose – 5900 S Juneau Street
Tigrinya
ንሕዳር ዕለት 15 ሰዓት 6:30 ድሕሪ ቀትሪ ናይ ከባቢና ሂልማን ካውንሲል ብዛዕባ መስርሕና አተኩይርና ንዛተየሉ አኼባ ክህሉ ስለዝኾነ; መጺእኩም ሓሳብኩም ከተካፍሉ ብኽብሪ ንዕድም።
ናይ ቋንቋ ትግርኛ አስተርጎምቲ ውን ክህልውና እዬም።
ቦታ- Rainier Ave Church, lower level- 5900 S Juneau Street
Vietnamese
Hãy tham gia cùng chúng tôi cho một cuộc họp cộng đồng vào ngày 15 Tháng 9 lúc 6:30 chiều để thảo luận việc thành lập một hội đồng khu phố Hillman thành phố. Chúng tôi muốn bạn dịch vụ đầu vào và dịch sẽ có sẵn trong ngôn ngữ của bạn.
Địa điểm: Rainier Avenue Church, (mức độ thấp hơn) — 5900 S Juneau Street
---
Vision Hillman City is a neighbor-driven project leading the diverse Hillman City community in a series of community conversations about its future.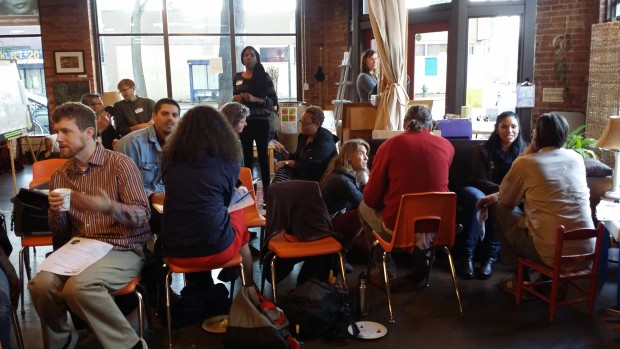 Our Story
So, maybe you've noticed … there's a lot going on in Hillman City. New and longtime residents living side by side … New businesses opening next to long-established ones … Rainier Avenue going on a "diet" …. Hillman City being described as an "up-and-coming" neighborhood … Real estate and rental prices on the rise for businesses and residents.
Clearly, there's a moment here … as Hillman City seems to be changing all around us, now more than ever, we need to take this time to learn more about who lives here and who does business here, and what it would take to keep them in the neighborhood! So those of us who live here can start to have more of a say in how those changes unfold.
Vision Hillman City started with the idea that a neighborhood dialogue needs to happen (like NOW!). It's a big endeavor, getting a whole neighborhood involved, so it was clear that resources would be needed: money, volunteers, spaces to hold events, facilitators, and more. The Department of Neighborhoods helped get the ball rolling with a $25,000 matching grant. Throughout 2015, the conversations have been taking place in a variety of community hubs.
If you've missed this events — never fear — we've kept notes, photos, and in some cases, video, from each community gathering. It's a great collection of the concerns, desires, and creative ideas that community members have been sharing, and they're all posted on this site and available as printable PDFs.
Vision Hillman City Goals
* building a greater awareness and understanding of who's here — who lives, works, plays, prays, or studies in Hillman City?
* finding out what's most important to the neighborhood — what are the highest priority needs & desires for Hillman City?
* taking action on those neighborhood priorities
* helping to cultivate a shared neighborhood identity
Community Conversations
Notes from past events: Apr 23rd,  Jun 17th, July 16th, Aug 20th
Get Involved
First: We have a new email list for Vision Hillman City! Please sign up if you don't want to miss event announcements and updates.
Next: If you're active on Facebook, please join the Vision Hillman City group.
Volunteer to help organize these neighborhood conversations. Help with outreach, other working groups, or the Steering Committee. Even asking your neighbors a few short questions will help — ask about the Vision Hillman City Neighborhood Questionnaire!
The Vision Hillman City Steering Committee meets at 6:30pm every Wednesday night at the Jacob Willard Home furniture store: 5600 Rainier Ave S
For More Information
Contact project manager Karl Hackett of Jacob Willard Home (5600 Rainier Ave S) at karl7766@gmail.com