Play
Rainier Avenue Church is a Free Methodist Church with a diverse membership, including recent immigrants. With a 100-plus year history of ministry in Rainier Valley, the church is committed to authentic community, social justice, and finding wholeness in Jesus Christ.
Mark Abbott is interim lead pastor, serving month to month from October 2013 until the board and delegates select the next long-term lead pastor.
Some of the ministries, co-housed organizations, and extra activities include the Community Development Team, Undoing Institutional Racism Committee, Urban Impact, and a community knitting and crafting group.
5900 Rainier Ave S
tel. 206.722.5616 www.rainieravenuechurch.org facebook: facebook.com/rainieravenue.church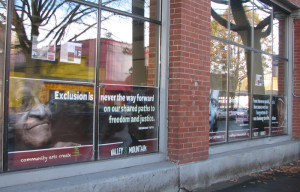 Play
A progressive congregation (Valley and Mountain Fellowship) and a grassroots arts organization (Community Arts Create) have collaborated to launch a dynamic new community space: the Hillman City Collaboratory.
The prominent storefront is in a beautiful historical building anchoring the neighborhood's central intersection of Orcas and Rainier. The Collaboratory, or "co-lab," includes a multipurpose meeting room, a kitchen, offices, and work-share space for artists and activists.
5623 Rainier Ave S
206-799-8428 hillmancitycollaboratory.org